Project Background:
Public bicycle rental system has been very popular abroad, so it will also be popularized in China. Now many enterprises and schools are relocating to the suburbs to form industrial parks and University towns, so it is inconvenient for workers, students and other people to go out. The introduction of self-service public bicycle system can facilitate people to go to work, go out, play, shopping and so on. Besides, cycling is an environment-friendly, healthy, recreational, noise-free way of travel, worthy of vigorous promotion. Self-service public bicycles are laid out by operators and installed in areas with large numbers of users such as bus stops, industrial parks, school gates. Intelligent and unmanned unified management through integrated equipment management platform will surely be favored by people.
System Introduction:

The wireless intelligent public bicycle rental system consists of site management equipment and SLK-R4008 series 3G/4G wireless routers. Site management equipment is distributed in many public places of public bicycle operators, such as bus stations, subway entrances, office buildings, shopping malls and so on. It is used for leasing user information records, swiping cards to pick up cars, returning cars, site pictures and so on. Through SLK-R4008 series 3G/4G wireless routers, the recorded pictures of rental cars and the captured pictures of rental points are transmitted to the back-end management platform, thus realizing the unified functions of rental information management and statistics, rental timing and billing, site environment and bicycle usage status monitoring for multi-site bicycles, thus helping operators to hold bicycles in time. Furthermore, it grasps bicycle rental status at each site, provides reliable data support for the follow-up operation, management and maintenance, and effectively improves the management level of public bicycle rental and the operating efficiency of operators.
System Diagram Display: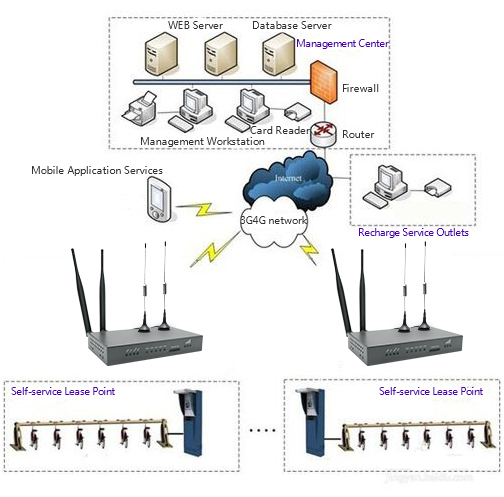 Main Fuction:
Through wireless network, public bicycle, intelligent parking column and intelligent management box are integrated to realize effective management and real-time control of the whole system.
Timing and billing: The system automatically records the time when citizens use public bicycles and charges according to the set standards.
Data reports: Automatically generate data reports for each period of borrowing, bicycle storage and rental frequency at each leasing point, bicycle usage frequency, etc.
Management control: Real-time monitoring of the leasing points can only lock the column, public bicycle, intelligent management box operation status, timely handling of abnormal situations.
Core Products
3G/4G industrial wireless router, through the 3G/4G network, will spread all over the self-service terminals to achieve safe, stable and reliable networking. With a large-scale networking, it has a unrestricted deployment distance, short construction period, small initial budget investment, providing technical support for cross-regional large data management.